Symposium 2022
Future of Work

Artificial and human intelligence, robots at work, virtual reality, the metaverse and phygitalization, big data, and social science — these are just a few of the megatrends and potential tensions that will radically shape the Future of Work. Companies and researchers worldwide have a great interest in understanding these developments. Indeed, history shows that companies that ignore major trends can suffer consequences that threaten their very existence — particularly if they are not well equipped to address the demands of future generations (i.e., Generation Z). Likewise, the past has shown that early exposure to potentially disruptive technologies can create competitive advantages.
On October 4, 2022, we will address the Future of Work in Munich. Experts from academia and industry will hands-on demonstrate the impact technology will have on our working environment in keynotes, panels and workshops. A mix of startups, corporations, academics, and consultants will look at these developments from different angles. An exciting program in a stunning location will provide ample opportunities for networking.
The Future Work 2022 is an interdisciplinary conference that aims to establish a platform between academics and industry leaders to jointly discuss these important societal challenges from a broader perspective. Researchers from multiple backgrounds (e.g., technology/computer science; human machine interaction; education; HR; marketing; organizational behavior) who are generally interested in shaping the way we organize the work of tomorrow are cordially invited to submit and present their latest work.
Programme
09:15 Doors open & welcome!
09:30 Panel 1
11:00 Lunch break

13:45 Panel 2
Digital Mindsets – in between techno-optimism und technostress
In her presentation, psychologist Julia Reif will show the latest findings on how people face the developments of "New Work". Her insights provide important impulses for the implementation of digital work models in practice.
---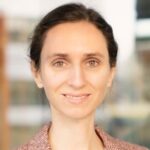 Julia Reif researches and teaches in the field of economic and organizational psychology. She studied psychology at Ludwig-Maximilians-Universität München. Afterwards, she earned her doctorate there with a dissertation on the initiation of negotiations and habilitated on the topic of behavior regulation. In particular, her research focuses on gender differences in negotiation situations, relationship regulation in economic decisions, team adaptivity, health and strain in modern work environments, as well as integration and organizational acculturation. Prof. Reif is active as a speaker at conferences and conventions and as an author of numerous scientific papers. As a freelance consultant, Julia Reif cooperates with national and international companies in the areas of organizational diagnosis, organizational development, and organizational culture. In her research and consulting activities, she links theory and practice in the sense of evidence-based management.
Wie müssen Büros heute verändert werden, um morgen noch erfolgreich zu sein?
Räume unterstützen den Wandel in eine neue Unternehmenskultur, sie können die Keimzelle von Innovation werden, und vermitteln sowohl die Werte Ihres Unternehmens als auch die Identität Ihrer Marke. Vor allem aber spielen sie auch eine zentrale Rolle bei dem heute so relevanten Thema der Arbeitgeberattraktivität.
Samir Ayoub gibt Antwort auf die Frage, warum es ohne New Office kein New Work geben kann:
Wie sich Büro- und Arbeitswelten ändern müssen, damit eine erfolgreiche und nachhaltige Transformation in eine hybride Arbeitswelt gelingt
Transformation zu New Work: Wie Räume den Wandel in eine neue Kultur unterstützen
Identität: Wie Ihre Arbeitswelt Ihre Marke und Unternehmenskultur vermittelt –nach innen und außen
Wir-Gefühl: Wie der Raum zum Klebstoff Ihrer Teams wird
---
Samir Ayoub ist Inhaber und CEO der designfunktion Gruppe, Unternehmer aus Leidenschaft und Autorität, wenn es um New Work und New Office geht. Er liebt es, Visionen und Missionen mit seinen Teams Wirklichkeit werden zu lassen. Sein außergewöhnliches Branchen- und Projekt Know-how sammelte er in über 750 New Office Projekten und bei starken Marken wie Vitra, Knoll International und Bene. Seine Karriere als Unternehmer begann mit 26 Jahren und führte ihn 2009 zur Nachfolge bei designfunktion. Das Unternehmen ist bis heute mehrfach ausgezeichnet, darunter "Bayerns Best 50" und Great Place to Work. Samir ist verheiratet und Vater von vier Kindern.
15:00 Coffe break / networking in virtual break-out rooms

15:30 Panel 3
Science fiction or reality? Malte Jung, Professor in Information Science and founder of the Robots in Groups Lab at Cornell University, will outline what work will look like when robots become co-workers or even superiors.
---
Don't ignore anthropology and the Gen Z! Anne Mette Worsøe Lottrup, Partner at ReD Associates, will present latest insights about the working requirements of the Generation Z and how human sensemaking is effective to receive insightful information on how to create the workplace of the future.
---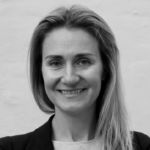 Anne Mette is passionate about helping companies find new growth areas based on a deep understanding of the consumer's world and the contexts shaping the business environment. Before coming to ReD, Anne Mette spent 11 years working for Novo Nordisk focused on developing commercial strategy, creating strong brands and translating strategy into powerful tactics. At ReD, Anne Mette has been instrumental in driving ReD's healthcare practice by among other things advancing our understanding of digital technology on mental health, examining how COVID has upended people's relationship with doctors, and redefining what a successful sales force in pharma will resemble in the future. Anne Mette holds a Masters in International Marketing and Management from Copenhagen Business School.
Tuesday, 04 October 2022, 09:30–17:00

UniCasino, Universität der Bundeswehr München, Germany
To enter the conference venue, you will need a valid ID card or passport. Without this, access cannot be guaranteed.
Due to Covid-19, the Symposium has to move to a virtual format. The workshop has been abandoned. We apologize for any inconvenience. Please contact the organizing committee via forschungsinstitut@bdvb.de for further information.

The Symposium will be hosted as a Zoom meeting. Registered participants will be provided with a personal login via email one day before.
Research Meets Practice
The conference aims to bring leading industry experts together with students and researchers from various disciplines (technology/computer science; human machine interaction; education; HR; marketing; organizational behavior).
Conference Fees
Regular participants: EUR 99.00
Students & bdvb: EUR 39.00
Conference Chairs: Peter M. Fischer, Philipp A. Rauschnabel, Katrin Schein
---
The organizing committee would like to thank
ReD Associates
for their generous support of this event.
---